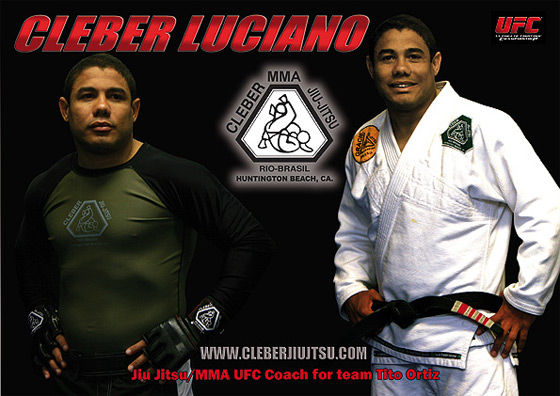 Don't miss your chance to attend a seminar with Cleber Luciano of Cleber Jiu Jitsu in Huntington Beach, CA. All students of jiu-jitsu are invited. We hope to see you there!
When:
Friday, September 28th
6pm to 9pm
Where:
Coachella Valley Judo and Brazilian Jiu Jitsu
77900 Country Club Drive Palm Desert, CA 92211 (in the Gold's Gym)
Admission:
$50 for CVBJJ members
$60 for non-members

About Cleber Luciano:
Cleber Luciano started training in Judo at age 5 and started Brazilian Jiu-Jitsu at age 7. Even at a young age, Cleber's dedication and perseverance stood out. He received his Black Belt in Jiu-Jitsu under Professor Royler Gracie at the age of 19. He holds a Black Belt in Judo as well. Cleber's daily routine includes running, swimming, cycling and weightlifting in addition to his Jiu-Jitsu and Vale Tudo training. Every class at Cleber Jiu-Jitsu is taught by Cleber himself. Cleber takes pride in his competition team which always places among the top. Cleber is an outstanding instructor who loves to teach and really cares about the progress of each individual student.
Fighter's Profile:
Age: 38
Weight: 160
Height: 5'6″
Rank: Black Belt 5th degree
Competition Highlights (Brazil):
Cleber 2008 No Gi World Champion – 1st Place
Competed in over 300 tournaments in Brazil
Won a trophy in almost every tournament
6 time Brazilian Champion
5 time Brazilian State Champion
2005 black belt challenge champion
2006 world jiu jitsu champion
Competition Highlights (USA):
Placed first in each of the following tournaments:
Pan American Games (3 times)
Naga Belt champion 4 times
4th Annual Joe Morreira Jiu-Jitsu Championships
5th Annual Joe Morreira Jiu-Jitsu Championships
1st Rickson Gracie Jiu-Jitsu Tournament
2nd Rickson Gracie Jiu-Jitsu Tournament
I Copa Pacifica de Jiu-Jitsu
II US Open
IIl US Open
Grand Prix Tournament
2009 NO Gi World Champion
2009 NABJJF Champion
To learn more about Cleber Jiu Jitsu go to http://cleberjiujitsu.com