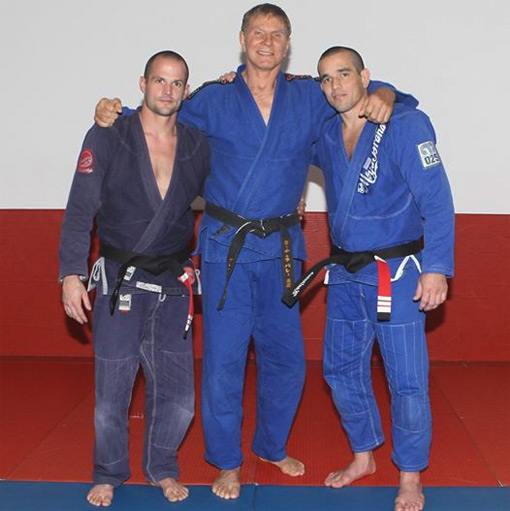 Last week, on behalf of fellow students, Dr. Chandrashekar coordinated an appreciation-belt-presentation for Daniel and Anthony, two veteran martial arts instructors whom countless people throughout Coachella Valley look up to. Many attended to pay homage.
A great sensei is rare. One must not only be an accomplished martial artist and successful competitor with abilities to teach—but also serve as role models, coaches, mentors, psychologists and even salesmen for ideas that even the advanced have yet to comprehend. Accepting students with the intent on guiding them through their careers from white belt to black belt displays a generous commitment that stretches over decades. How can a price be established on such a gift from the heart?
A good coach leads from the front and must know how to inspire, sometimes with a pat on the back and other times a kick in the butt, yet always with positive affirmations and the best intentions. Sometimes knowing exactly when to do what is a difficult decision that we as instructors don't always get right.
This dojo was founded twenty-five years ago on principles dating back two thousand years. We are the twenty-first century samurai. Discipline, honor and respect are fundamentals that are sadly missing in today's society yet are forever woven into the spirits of martial arts students at CVBJJ. "The way of the warrior" in the code of Bushido lives on.
Recently the ultimate dream was fulfilled when this school finally found a permanent home, a dedicated temple to practice quality martial arts and shape the destinies of future students. Today I am both humbled and extremely proud to see that when Daniel McCown and Anthony Mantanona were "handed the ball" many years ago, they made this ground-breaking institution even greater than I ever imagined possible. Oss
-Sensei Glenn Heggstad